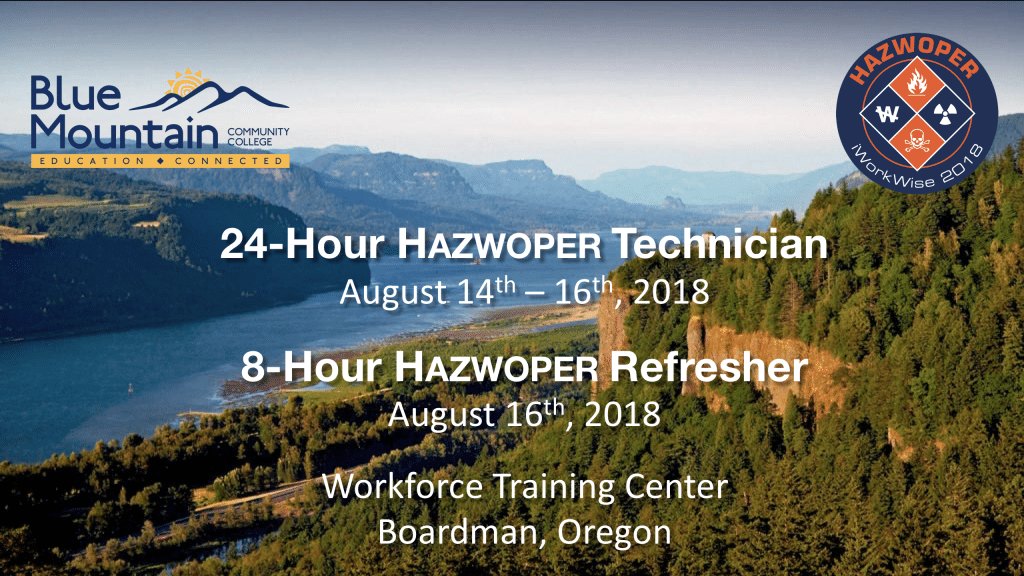 iWorkWise has partnered with Blue Mountain Community College to bring a 24-Hour HAZWOPER Technician Level and 8-Hour refresher course to Boardman, Oregon.
HAZWOPER Hazardous Materials Technician:
This course is intended for those employees who respond offensively to stop a hazardous chemical release. Students completing the course are certified as Hazardous Materials Technicians. Topics covered include, but are not limited to: laws and regulation; incident command system; required notifications; hazard recognition, assessment, and communication; hazardous material classification and identification; monitoring and instrumentation; PPE/chemical protective clothing; respiratory protection; decontamination procedures; termination procedures; emergency response planning and plan implementation; control and containment operations.
HAZWOPER Annual Refresher:
This course focuses on the topics required to maintain competency as a Hazardous Materials Technician, First Responder, and/or Incident Commander. The course provides review of major response concepts and procedures, information on applicable new technologies and strategies, advanced response techniques for specific hazardous materials, and analysis of relevant case studies. A dynamic mix of classroom instruction, demonstrations, exercises, and hands-on training is used to meet learning objectives.
DATE
24-Hour HAZWOPER Technician: August 14th to 16th
8-Hour HAZWOPER Refresher: August 16th
LOCATION
Workforce Training Center
251 Olson Road
Boardman, OR  97818
REGISTRATION
To register, contact Anne Morter, Workforce Training Center Director, at 541-481-2099 or by email at amorter@bluecc.edu.